Contact Us
Zhejiang Peng Hong Trading Co., Ltd.
| | |
| --- | --- |
| Add: | Rm.1005, Modern Star Building,NO.337 Shao Xing Rd.,Hangzhou, Zhe Jiang, China |
| Tel: | 86-571-85889956 |
| Fax: | 86-571-85889950 |
| Email: | sales@phmetals.com |



Custom Bolt /Fasteners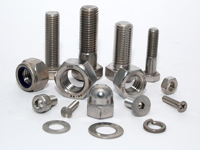 Serving a wide array of industries from marine and mining to construction and electronics, our custom fasteners can be used for a broad variety of applications, including boilers, bridges, hydraulics, and machine tools. Offering the capability to work with a large number of materials up to four inches in diameter, such as nylon, plastics, brass and stainless steel, we can heat treat our custom fasteners to match our customer's unique requirements.
Offering a large variety of fastener, thread, bolt and screw head types, we can manufacture numerous styles of our custom fasteners based upon client specifications. And, we can also manufacture our products to numerous custom grades.
Specifications:
Industry Focus
Agricultural
Automotive
Construction
Electronics
Food Processing
Heavy Machinery
Marine
Mining
Nuclear
Oil, Gas, Petroleum
Energy
Medical
Transportation
Intended Application
Boilers
Bridges
Construction Machinery
Engineered Plumbing
Engines
Hydraulics
Impellers
Jewelry
Machine Tools
Water Treatment Plants
Materials (Metals)
Alloy Steels
Aluminum
Beryllium
Brass
Silicone Bronze
Carbon Steel
Magnesium
Molybdenum
Monel
Inconel
Nickel
Stainless Steel
Tin
Titanium
Materials (Plastic Polymers)
Various Plastics
Nylon
Standard
British
English
Metric
Hardening Specification
Heat Treated to any custom Specification
Fastener Types

*We can manufacture many custom fasteners to your specification*



Dowels & Pins
Hose Couplings
Nails
Rivets
Screws
Shackles
Shaft Couplings
Studs
Bolt Types

*We can manufacture many custom bolts to your specification*



Anchor
Bent
Carriage
Countersunk
Elevator
Lag
T-Handle
T-Slot
Flange
Carriage
Bent
Plow
Bolt & Screw Head Types

*We can manufacture many custom head types to your specification*



Binding
Button
Fillister
Flat
Flat Undercut
Headless
Hexagon
Indented Hexagon
One-Way
Oval
Pan
Pentagon
Phillips
Round
Shoulder
Square Shoulder
Socket
Trimmed Hex
Truss
12-Point
Thread Types

*We can manufacture many custom thread types to your specification*



ACME
Drywall
Machine
Self-Tapping
Self-Drilling Drive Screws
Self-Drilling
Type 17
Type 23
Type 25
Type A
Type AB
Type B
Type F
Wood
UNC
UNF
Grades

*We can manufacture to many custom grades meeting your specification*



2
5
8
8.8
10.9
12.9
class="td"Bolt & Screw Drive Types

*We can manufacture many custom drive types to your specification*



Combination
Hex/Hexagonal
Phillips
Six Lobe
Slotted
Socket
Square
Tamper Resistant
Torx
Nut Types

*We can manufacture many custom nut types to your specification*



2-Way
Anchor
Cap
Castle
Conical
Coupling
Finished Hex
Flex Lock
Heavy Hex
Hex Flange
Hex Jam
Keps
Nylon Insert
Nylon Patch
Nylon Pellet
Semi-Finished Hex
Serrated Hex Flange
Slotted Hex
Square
Thumb
Top Lock
Wing
Finish
Automotive
Black Oxide
Brass Plated
Cadmium
Chromate
Chrome
Color Coated
Galvanized
Nickel Plated
Painted
Phosphate
Polished
PTFE
Silver Plated
Teflon
Zinc Plated
Industry Standards
ANSI - American National Standards Institute

ANSI B 18.2.4 2M
ANSI B 28.2.4 1M

DIN ISO - International Organization for Standardization UTS - Unified Thread Standard

UNC
UNF
UNEF
UNS
NPT
NPTF

Production Volume

Min
$60
Max
Several Million units

Low Volume to High Volume
File Formats
AutoCAD (DWG,DWZ)
BMP - Bit Mapped Graphics
Catia (CATDrawing,CATPart)
Delcam (DGK, DMT)
DXF - Drawing Interchange Format, or Drawing Exchange Format
GIF - Graphics Interchange Format
IGES - Initial Graphics Exchange Specification, ANSI file format.
Inventor (IDW, IPT)
IronCAD (ICD,ICS)
JPG or JEPG - Joint Photographic Experts Group
MasterCam (MDX, MC8, MC9, SET)
PDF - Portable Document Format
Pro-E or Pro/Engineer (DRW,PRT,XPR)
SAT
3D ACIS Model File
SolidWorks (SLDPRT,SLDDRW,SLDDRT)
STEP - Standard for the Exchange of Product Model Data
SurfCam (DSN)
TIFF - Tagged Image File Format
Diameter